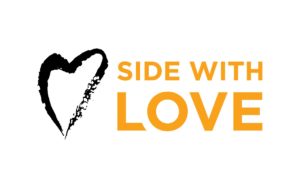 The Unitarian Universalist Association has rolled out the name Side with Love for its flag-ship social justice campaign.  In replacing the name Standing on the Side of Love, the campaign acknowledged that our community has been calling attention to the exclusionary language of the name from the beginning.  At General Assembly 2017, Rev. Theresa Soto brought forward a Responsive Resolution asking for a re-imagining of the name (see post).  Staff from the UUA worked on the name change in consultation with Rev. Soto, leaders from EqUUal Access, and other stakeholders, which has led to today's announcement.
The UUA's announcement lists 3 opportunities from this re-imagining:
to firmly name what we are for and against. To recognize that as we seek to embody universalism we commit to resisting oppression.
[to contemplate] provocative spiritual questions including "When have I sided with love? When have I shirked siding with love?
to expand and deepen our understandings of the ways ableism shows up within the justice and spiritual communities we participate in, create and cultivate.
EqUUal Access encourages all Unitarian Universalists, UU communities, and UU organizations, to embrace these opportunities.
In addition to the resources provided by Side With Love in the announcement, you can find more about ableism under the Resources page on this website.
Let us know how you are encountering — and countering — ableism.  Join the conversation on Facebook!  Enter your sermon in our annual sermon contest! Submit your photo for our anti-ableism multi-media project!