We cannot transform the world and fulfill our call without drawing on the abilities of all in our midst.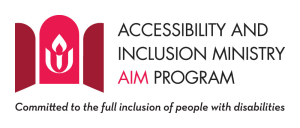 We know that the legacy of centuries of pity, fear, and isolation is a society that creates attitudinal and physical barriers which dismiss people with disabilities and shut us out.  The Accessibility and Inclusion Ministry Program (AIM) engages congregations deeply in understanding the meaning and experience of disability, in the congregation and in our world.  AIM congregations are creating communities where each of us can bring the fullness of our lived experience.
What Makes AIM a Program for Congregations?
In the tradition of the Welcoming Congregation and Green Sanctuary programs on which it was modeled, AIM certifies congregations as committed and engaged in becoming accessible and inclusive religious communities.
There's a lot we can do as individuals to deepen our understanding of disability as an aspect of the human experience, and counteract society's stereotypes in ourselves.  And the program is designed to help members do that.  It also encourages Unitarian Universalists to be involved in the work to undo society's prejudices and barriers.  But it happens in the context of strengthening the shared life of the congregation.
What's the Process?
While each congregation sets its own pace for obtaining certification, you should expect it to take a couple of years.  In the beginning, gather a core group and get the support of the congregation's leaders.  Using the program's tools, assess where your congregation is at now in both accessibility and inclusion, and set priorities for change.  You develop your action plan based on those priorities.  Once the AIM Program approves your plan, it's time to put the plan to work.  When the plan is completed, you're ready for certification.
More information?
The Accessibilities and Inclusion Ministry Program is a partnership between the Unitarian Universalist Association and EqUUal Access.
You can find all the program materials at uua.org/accessibility/aim.
More resources?
Check back here.  We will be posting stories, tips, and resources to help.