Support EqUUal Access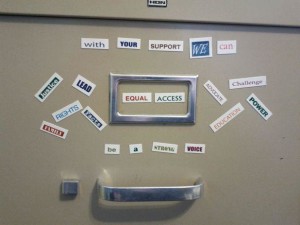 It is through the generous donations of our members and friends that we are able to work  to effect positive and lasting change within our denomination.There are many ways to make a donation to help strengthen the effectiveness of EqUUal Access and your financial contributions support to the work of the organization. EqUUal Access is a voluntary organization and requires gifts of time as well as monetary donations for it to work.

Tax Deductible Monetary Contributions
Giving on line
Donations can be made on line by going to: UUA Online Giving. In the drop-down box for "Designation" select "Other". A new box will appear immediately below. In this new box, type "EqUUal Access".
Giving by phone
If a person wants to donate by telephone the number is toll free: 1-888-792-5885. When you donate on the telephone you should clearly state that the donation is restricted to EqUUal Access.
Giving by check
Checks can be made payable to "UUA" and note clearly in the memo area "For EqUUal Access". Then mail the check to:
Unitarian Universalist Association
Attn: Stewardship & Development
24 Farnsworth Street
Boston, MA 02210-1211
Contributions of Time and Talents
If you are interested in donating your time and talents please contact EqUUal Access and tell us what you have in mind. Click here to email EqUUal Access.
Thank You!
Any monetary donation or gift of time is greatly appreciated.